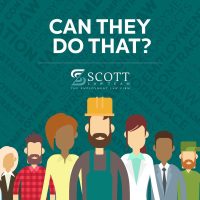 By Scott Law Team in Florida
**New Episodes Every Thursday At Noon**
A free resource where employment experts dive into and discuss relevant legal matters and hot topics in the media. Provided by Scott Law Team, The Employment Law Firm. (This podcast is not official legal advice and should not be substituted for professional legal consultation).
At Scott Law Team, we aim to meet clients in the moment. One of the biggest challenges many workers face is that they are unaware that they may have a viable legal claim – our podcast aims to educate both employees and employers on what to look for in the workplace. Topics range all things employment: termination, discrimination, overtime, contracts and so much more.
Don't know if this is the podcast for you?
A legal podcast may not sound like your typical listening material. But have you ever found yourself thinking about work and asking yourself the big, "Can they even do that?" question? If you have, then you should check out what our employment attorneys have to say – they have an answer.
New episodes come out every Thursday at noon, with sneak peaks, behind the scenes, and more on both our Facebook and Instagram (@ScottLawTeam).
Want to listen to previous episodes? Check out rss.com/podcasts/cantheydothat/  or listen on your preferred streaming platform.