EEOC: Florida Employee Receives $70,000 In Pregnancy Discrimination Claim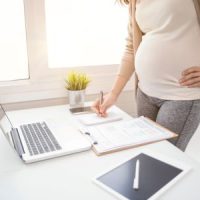 On April 26th, 2022, the Equal Employment Opportunity Commission (EEOC) announced that a $70,000 settlement has been reached in a pregnancy discrimination claim on behalf of an employee in North Florida. DLS Engineering Associates will pay $70,000 to a woman who had her job offer revoked after she disclosed her pregnancy status. In this article, you will find a more detailed explanation the pregnancy discrimination settlement and a step-by-step overview of your rights if you believed that you were denied a job opportunity due to your pregnancy.
Allegations: Vice President Told Employee Company Could Not Hire Pregnant Worker
The employer in this case is DLS Engineering Associates, LLC, an engineering consulting contractor with a main headquarters in Virginia Beach. The company had a federal contract at a site in Jacksonville, Florida. The employee applied for a position at the Jacksonville location and received an initial offer of employment to work as an engineering logistics analyst.
Prior to officially starting in the position, the employee told a Vice President of the company. Shortly after making this disclosure, her job offer was rescinded. In denying the female employee the job opportunity, the Vice President explicitly stated that the company could not hire a pregnant worker for the position in question.
The EEOC sued DLS Engineering Associates, LLC for violations of the Pregnancy Discrimination Act. As part of the settlement reached by the parties, the employer will pay $70,000 in damages to the affected pregnant worker. Additionally, the company has entered a consent decree with the EEOC. It will revise its policies and conduct training on pregnancy discrimination in the workplace.
What to Do If You Were Denied a Job Because of Pregnancy 
All employers with 15 or more total employees are covered by the federal Pregnancy Discrimination Act. Under the statute, it is unlawful for an employer to deny a job opportunity (initial position or promotion) to an employee simply because of pregnancy status. Here are three key steps to take if you believe that you denied a job due to pregnancy:
Write Down the General Details: To start, write down the general details of the job opportunity. Among other things, this includes how you found out about it, when you applied, and any interviews (remote or in-person) that you attended.

Preserve Anything that Suggests Pregnancy Discrimination: To the best of your ability, try to preserve anything that suggests pregnancy discrimination. For example, if you were told anything negative about pregnant workers or your pregnancy, write down who said it and what was said.

Consult with a Florida Employee Rights Attorney: Pregnancy discrimination claims are notoriously complex. You do not have to go through the process alone. Consult with an experienced Florida pregnancy discrimination lawyer for immediate help with your case. 
Get Help From a Pregnancy Discrimination Attorney in Florida 
Pregnant workers deserve fair and equitable opportunities in the workplace. If you were denied a position, a promotion, or if you were otherwise treated unfairly due to your pregnancy, you may be entitled to compensation. Contact an experienced Florida pregnancy discrimination lawyer for help.