Are Employees Allowed to Take FMLA Leave to Meet with their Child's Special Education Teacher?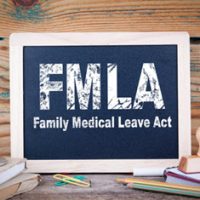 The Family and Medical Leave Act (FMLA) requires employers with 50 or more employees to give eligible employees up to 12 weeks of unpaid leave per year to deal with a "serious health condition." This includes not only the employee's own serious health condition, but also one affecting a spouse, child, or other close family member. For example, if a child suffers from a chronic health condition and the employee needs to take them to the doctor once a week for treatment, that could be covered under FMLA, as long as the employee is an "eligible" employee themselves.
U.S. Department of Labor Sides with Parents
In a formal opinion letter, the U.S. Department of Labor recently (DOL) concluded a parent would also be entitled to FMLA leave if they needed time off from work to attend certain meetings with their child's special education teachers. All children who require special education services under federal law must have what is known as an Individualized Education Plan (IEP). Developing an IEP often requires multiple in-person meetings between parents and teachers.
An unidentified parent asked the Department of Labor's Wage and Hour Division (WHD) to clarify whether such meetings fell within the scope of FMLA. According to the DOL's reply letter, the author said that his wife's employer had allowed her to take "intermittent" FMLA leave to bring their children to medical appointments. But the employer would not approve leave to attend IEP meetings.
The employee in this case had a child who required "occupational, speech, and physical therapy." Their treatment is prescribed by their doctor. The children's school district subsequently provides services as part of this treatment, which in turn require quarterly meetings with the parents.
Under these circumstances, the DOL said the mother's need to attend such meetings was a "qualifying reason for taking intermittent FMLA leave." FMLA covers time off "to care for a family member with a serious health condition." This includes time necessary "to make arrangements for changes in care." Here, the mother's attendance at IEP meetings is "essential to [her] ability to provide appropriate physical or psychological care" to her children, who have a physician-documented serious health condition. Indeed, the whole point of the IEP meetings is to help decide if any changes are necessary to the progress of the children's therapy, including whether their current school environment is "suitable to their medical, social, and academic needs."
The Limits of FMLA Protection
If you have additional questions or concerns about entitlement to FMLA leave or how to enact an FMLA leave policy in your company, consult with an experienced Florida employment law attorney right away.
Source:
dol.gov/whd/opinion/FMLA/2019/2019_08_08_2A_FMLA.pdf
https://www.floridalaborlawyer.com/regarded-as-having-a-disability-can-a-florida-business-fire-an-employee-because-they-might-contract-a-disease-in-the-future/