Bill Introduced In House Of Representatives Would Ban Many Non-Compete Agreements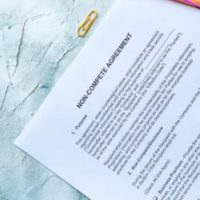 Recently, Representative Mike Garcia (R-California) introduced a bill called the Restoring Workers' Rights Act of 2022 (RWRA). The bill has some support from both Republican and Democratic lawmakers in Washington. The RWRA proposes a federal ban on employee non-compete agreements for all workers deemed "non-exempt" under the Fair Labor Standards Act (FLSA). In this article, you will find a more comprehensive overview of the proposed legislation as well as the current law for employee non-compete agreements in Florida.
What to Know About the Proposed Restoring Workers' Rights Act of 2022 (RWRA) 
As drafted, the RWRA seeks to amend the Fair Labor Standards Act (FLSA). The FLSA is one of the most important labor laws in the country. It applies broadly to employers/employees across the country. Notably, the FLSA does not currently speak to non-compete agreement at all.
If amended as proposed by the RWRA, the FLSA would strictly prohibit the use of non-compete agreements for any employees who are classified as "non-exempt" under the FLSA. Non-exempt employees are those who are eligible for overtime pay. They are generally hourly workers who are in non-managerial/non-specialty positions.
To be clear, the RWRA is still a long way from becoming law. It would need to pass the House of Representatives, approved by the United States Senate, and signed by the President. Still, the federal push to restrict non-compete agreements should be monitored closely.
 Your Guide to Florida Law On Employee Non-Compete Agreements 
In Florida, non-compete agreements are currently a lawful restriction on trade. For the purposes of non-compete agreements, Florida law makes no distinction between FLSA exempt employees and FLSA non-exempt employees. In other words, any worker in Florida could potentially be required to sign a non-compete agreement by his or her employer. However, non-compete contracts in Florida are only valid when certain standards are met. Under Florida Statutes § 542.335, a non-compete agreement must satisfy the following three conditions:
It must be in writing. Verbal non-compete agreements are not enforceable against employees in Florida. While oral contracts can sometimes be upheld in other circumstances, they are never valid for non-competes.
It must protect a legitimate business interest. The employer seeking to enforce a non-compete must establish that some type of legitimate business interest is implicated. Examples include trade secrets, valuable business information, customer relationships, and specialized training.
It must be reasonable in scope. Non-competes cannot put an undue hardship on the worker. A non-compete agreement generally needs a well-defined scope, such as a limited geographic range and a limited duration. An overly broad non-compete can be thrown out by a court in Florida. 
Get Help From an Employment Lawyer in Florida 
Before signing a non-compete agreement, you need to be sure that it is in your best interests. If you have any specific questions or concerns about the drafting, negotiation, or litigation of non-compete agreements, please do not hesitate to reach out to a Florida employment lawyer for help.