Kroger Will Pay $180,000 To Resolve Religious Discrimination Claim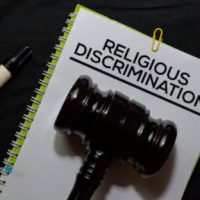 October 27th, 2022, the U.S. Equal Employment Opportunity Commission (EEOC) announced that  Kroger Limited Partnership I—an Ohio-based company that owns the national grocery chain by the same name—will pay $180,000 to resolve a federal religious discrimination lawsuit. In this article, you will find a more detailed overview of the religious discrimination settlement and workplace protection under federal and state law.
Allegations: Kroger Terminated Two Employees for Failure to Wear Apron With Message
 The EEOC filed a religious discrimination lawsuit on behalf of two employees who were recently terminated from a Kroger location in Faulker County, Arkansas. Kroger reportedly required all employees at the store to wear an apron with an "Our Promise" message. The message has been associated with the company's support of LGBTQ rights.
Two employees after the Arkansas store refused to wear aprons with the message, citing their religious beliefs. The company reportedly punished and later fired both workers. Kroger was sued by the EEOC for religious discrimination. Without admitting to or denying liability, the company has reached a pre-litigation settlement. A total of $180,000 in compensation will be paid to settle the matter.
 Federal Law: Employee May Be Entitled to Religious Accommodation for Good Faith Beliefs 
The case in question was a federal religious discrimination lawsuit. Under Title VII of the Civil Rights Act of 1964, religious discrimination is strictly prohibited. Notably, the law requires employers to make a good faith effort to provide a reasonable accommodation for a religious employee's bonafide beliefs. The EEOC has said that covered bonafide religious beliefs include "moral or ethical beliefs as to what is right and wrong which are sincerely held with the strength of traditional religious views." Some examples of religious accommodations include:
Flexible scheduling;
Voluntary shift swaps or swaps
Reassignments of certain job duties; and
A modification to workplace policies/requirements.
As an employee, you may be entitled to religious accommodation if your employer has 15 or more total employees and you have a bonafide moral or ethical belief that conflicts with your employer's standard workplace practices. If you believe you have been the victim of religious discrimination, you should contact an experienced employment discrimination attorney to discuss your legal options. These cases are notoriously complex. A highly fact-intensive inquiry is always required.
 No Religious Accommodation Required if Undue Hardship on Employer 
Notably, an employer is not required to provide religious accommodation if doing so would impose an undue hardship. In this way, religious accommodations share an important commonality with reasonable accommodations in disability discrimination claims. Employers are not required to provide any specific religious accommodation by law. Though, employers covered by Title VII are obligated to make a good faith effort to try to find an accommodation for religious workers.
 Get Help From a Religious Discrimination in Employment Lawyer in Florida
 Religious discrimination in the workplace is not acceptable. If you believe that you or your loved one was subject to unjust treatment by an employer based on religion, please do not hesitate to contact an experienced Florida employment discrimination lawyer for immediate help.