DOL Secures More Than $46,000 In Back Pay For Florida Roofing Workers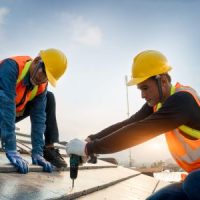 On November 8th, 2021, the Wage and Hour Division of the U.S. Department or Labor (DOL) found that a North Florida roofing contractor must pay $46,302 in back pay to 29 employees who were improperly denied their full and fair wages for required pre-shift and post-shift work. Additionally, the employer was also cited for overtime violations. Here, you will find a more detailed overview of the DOL enforcement action and explanation of an employee's right to compensation for pre-shift/post-shift work under the Fair Labor Standards Act (FLSA).
DOL Wage and Hour Enforcement Action: $46,302 in Back Pay
Crosier & Son Roofing Inc. is a roofing company based in Gainesville, Florida. The Wage and Hour Division of the DOL initiated an investigation into the wage and hour practices of the contractor after learning of potential violations of the FLSA. Investigators made the following determinations:
The employer required roofing workers to report to their trucks by 6:45 AM for pre-shift work, such as equipment preparation;
The employer did not actually pay workers for this time—instead workers were only paid when their shift actually "started";
The employer also required workers to perform some uncompensated post-shift work, such as returning certain trucks and equipment; and
The employer paid some workers straight-time wages in cash to avoid paying time and a half for overtime.
In total, the DOL assessed that 29 roofing workers were affected by the company's violations of the minimum wage and overtime requirements of the federal FLSA. The employer was ordered to pay $46,302 in back wages to employees.
The FLSA Guarantees Hourly Workers Pay for Mandatory Pre-shift/Post-Shift Work
The Fair Labor Standards Act is clear: Hourly employees must be paid for all of the work that they perform. An employer cannot require a worker to perform mandatory pre-shift or post-shift work while "off-the-clock." Preparation work is part of an employee's overall workday. As a Florida-based Wage and Hour Division Director explained, an hourly employee's workday begins when they are "required to complete any tasks," and it ends following the "completion of the last post-shift activity."
In other words, no delineation can be made between "pre-shift work" and "work." Once an hourly employee is required to start pre-shift preparation, then they are already working and they deserve to be compensated for that time. An employer's failure to do so may violate the wage and hour requirements of the FLSA in several ways. First, it constitutes a minimum wage violation. Unpaid labor is sub-minimum wage. Additionally, it could violate overtime pay requirements as those compensated hours are not being properly recorded and could push an employee beyond 40 hours in a given work week.
Get Help From a Wage and Hour Attorney in Florida
Employers must pay employees for the full hours that they worked, including for any pre-shift or post-shift prep work. If you or your family member was improperly denied wages under the FLSA, contact a Florida wage and hour lawyer for immediate assistance with your case.