"When Do You Plan on Having Another Baby?": Sarasota Employer's Pregnancy Discrimination Leads to $70,000 Settlement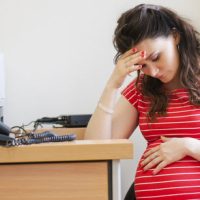 The U.S. Equal Employment Opportunity Commission (EEOC) said it received approximately 3,000 complaints related to pregnancy discrimination in 2018 alone. Although federal and state law is clear on this subject, many employers continue to think it is acceptable for them to refuse to hire or promote a female employee because they are pregnant–or may become pregnant in the future. Such discrimination is both illegal and costly, particularly when the EEOC gets involved.
Employee Denied a Promotion Because She "Could Not Guarantee That She Would Never Have Another Child"
For example, in EEOC v. The Glenridge on Palmer Ranch, Inc., the EEOC obtained a $70,000 settlement from a Sarasota-based employer that allegedly committed pregnancy discrimination against an employee who sought promotion to a supervisory position. The employee in this case was not even pregnant. According to the EEOC's complaint, filed in Tampa federal court, the employee interviewed for a supervisor position after working for the employer for nine years.
The EEOC said a manager asked the employee, "When do you plan on having another baby?" The manager attempted to justify this inquiry by stating, "With this position it doesn't leave a lot of time off for long periods of time."
The employee said she replied that "while she was not actively trying to get pregnant, she could not guarantee that she would never have another child."
Not only did the employee fail to obtain the supervisory position, the EEOC said, she never even received a formal interview. The employer then fired the employee three days after she applied for the supervisor position. The employer subsequently hired another woman for the job, someone who the employer "did not believe [] would become pregnant," according to the EEOC.
Although the employer initially contested the EEOC's lawsuit, it eventually agreed to a three-year consent decree with the agency. While the employer does not admit to any illegal behavior, it will nonetheless pay the former employee $70,000 in damages. The EEOC said the employer will also "distribute an updated policy against sex discrimination; conduct annual training on sex discrimination for its hiring officials; and post a notice about the lawsuit."
Certain Questions Are Off-Limits in Job Interviews
Florida employers cannot discriminate against women based on their actual or potential future pregnancy status. The allegations described in the EEOC's case above is a textbook example of the type of questions employers should never ask. This includes asking a job applicant if they are pregnant or plan to have a child. It also covers matters such as asking about marital status or childcare arrangements. These topics are simply off-limits in a job interview.
Employers can still ask certain non-discriminatory questions designed to learn about an employee's availability to work outside of normal business hours or their ability to travel as part of their job requirements.
If you have additional questions about how to ensure your interview or applicant screening process stays within the bounds of the law or you are an employee with questions about discrimination in the workplace, contact a qualified Florida employment law attorney today.
Sources:
eeoc.gov/eeoc/newsroom/release/8-9-19.cfm
courtlistener.com/recap/gov.uscourts.flmd.355081/gov.uscourts.flmd.355081.1.0.pdf
https://www.floridalaborlawyer.com/florida-amends-restrictive-covenant-law-to-bans-certain-physician-non-compete-agreements/