Florida Employer Agrees to Settle Disability Discrimination Lawsuit, Will Pay Job Applicant $50,000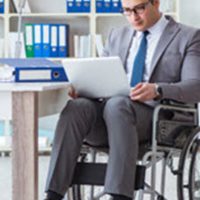 On July 21st, 2023, the Equal Employment Opportunity Commission (EEOC) published a press release confirming that an employer in Florida (Houcorp, Inc.) will pay $50,000 to settle a disability discrimination claim. The lawsuit alleged that the company effectively failed to provide a hard-of-hearing job applicant a fair opportunity to seek a position. In this article, you will find an overview of the disability discrimination settlement reached by the EEOC.
Disability Discrimination Settlement: $50,000 and Revised Employment Practices 
Houcorp, Inc., a fast-food restaurant franchise with locations in Indian River County and Brevard County will pay $50,000 in a settlement of a disability discrimination lawsuit. The legal claim was filed after allegations were raised that the employer failed to provide an American Sign Language (ASL) interpreter for a hearing-impaired applicant. The conduct in question is a violation of the Americans with Disabilities Act (ADA). As part of the settlement agreement, the employer also agreed to revise its hiring practices to ensure full compliance with federal law. The three-year consent includes the following provisions:
The employer will provide ASL interpreters to applicants and employees for interviews, orientations, training, and reviews; and
The employer will increase ADA training, raise awareness about the deaf community, and conduct an internal audit to enhance workplace accessibility for deaf and hard-of-hearing individuals.
Job Applicants are Also Protected By the ADA 
The ADA applies to all employers in Florida with 15 or more employees. Notably, employers that are covered by the ADA need to ensure that hiring policies are fully compliant with the law. Indeed, the ADA extends its protections not only to employees but also to job applicants. The federal legislation prohibits discrimination based on disability throughout the entire employment process, from recruitment to termination.
It is important to emphasize that this includes the application process, wherein employers must provide reasonable accommodations with appropriate. A reasonable accommodation could include accessible application formats or interpreters for the deaf or hard-of-hearing applicants. What constitutes a reasonable accommodation depends on the specific circumstances. Employers are not required to provide an accommodation that would pose an undue burden.
Remedies for Job Applicants Denied a Position Due to Disability Discrimination 
If a job applicant has been denied a position due to disability discrimination, there are potential remedies that are available under the ADA. What exactly a job applicant who faced unlawful disability discrimination is entitled to through a claim will depend on a number of different case specific factors. Some notable remedies may include:
Financial compensation for lost wages;
An opportunity to take a job with a reasonable accommodations; and
Compensation for other damages, potentially inducing emotional distress.
Get Help From a Disability Discrimination Attorney in Florida 
The ADA protects the rights of many disabled employees and job applicants in Florida. If you or your loved one was mistreated in violation of the law, you may be entitled to relief. Contact an experienced Florida disability discrimination lawyer for help with your case.