More Than $60,000 in Back Wages Recovered for Hotel Workers in Florida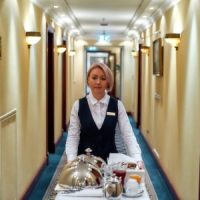 On July 27th, 2023, the Department of Labor (DOL) announced the results of an investigation into three North Florida hotels. The DOL has recovered a total of $62,000 in back wages and liquidated damages on behalf of more than three dozen workers. The hotels improperly denied the workers overtime pay.  In this article, you will find an overview of the DOL's enforcement action as well as the legal protections for hotel workers in Florida.
Unpaid Overtime: Back Wages and Liquidated Damages Recovered for Hotel Workers 
The United States Department of Labor (DOL) has recovered over $62,000 in back wages and liquidated damages for 38 hotel workers. All of the workers were employed at hotels in Jacksonville, Florida. The three hotel employers that were named as defendants in this case are as follows:
Epic Lodging Inc. (DBA: Days Inn Jacksonville);
SNL ONE Inc. (DBA: Jax Inn); and
Merks LLC (DBA: Holiday Inn Express).
The core wage and hour violation cited in these cases was unpaid overtime. More specifically, the employers paid workers straight time wages even if they worked overtime hours. Several different violations were cited, including shaving overtime hours from employees' timecards and misapplying the FLSA's managerial overtime exemption.
Understanding Liquidated Damages in FLSA Unpaid Overtime Claims 
Liquidated damages in the context of the Fair Labor Standards Act (FLSA) unpaid overtime claims refer to a penalty imposed on employers who violate overtime regulations. They are calculated as an amount equal to the unpaid overtime, essentially doubling the compensation owed to the employee. This serves as both a remedy for the affected worker and a deterrent for the employer.
To be clear, liquidated damages are not an automatic remedy in an unpaid overtime claim. Workers denied overtime in violation of the FLSA always have the right to seek full and fair back wages for the pay that they should have received. If they can prove that their employer willfully violated the FLSA, they can also seek "double back pay" (liquidated damages) as a remedy.
Many Hotel Workers are Entitled to Overtime Pay Under the FLSA 
Tourism and hospitality are among the most important industries in Florida. Many workers in the hotel industry are entitled to overtime pay when they work overtime hours. The FLSA mandates that employees who work more than 40 hours in a workweek receive at least one and a half times their regular pay rate for the additional hour—unless an exemption applies. In the hotel industry, workers are generally non-overtime exempt unless they have managerial responsibilities or other specialized skills that require an advanced degree. Workers such as housekeeping, maintenance, and front desk staff are generally covered by overtime regulations under the FLSA.
Get Help From a Wage and Hour Attorney in Florida 
Hotel workers deserve the full wages that they rightfully earned. If you or your loved one is a hotel worker who was denied a minimum wage and/or denied overtime pay in violation of the law, contact an experienced Florida wage and hour lawyer for immediate assistance.