Miami EEOC Office Hosts Event Highlighting COVID-19 And Impact On Asian-American Employees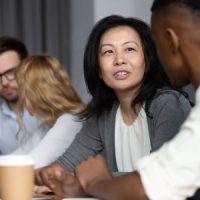 Last month, the Equal Employment Opportunity Commission (EEOC) hosted a free event to bring attention to the impact that the COVID-19 pandemic has had on the Asian-American community across the country—particularly in regards to "violence, harassment and acts of bias against Asian Americans and Pacific Islanders (AAPIs)." The event was held in Miami, FL and the keynote address was delivered by the agency's Chair Charlotte A. Burrows.
A Serious Problem: Rise in Acts of Bias Against Asian-Americans
The EEOC's event is focused on bringing attention to a serious, growing problem. Since the start of the COVID-19 pandemic, there has been a sharp increase in bias against Asian-Americans. As reported by USA Today, the Asian-American community is facing more harassment, attacks, and violence. The incidents of bias and hate have taken many different forms—from offensive and disparaging comments in the workplace to outright criminal attacks.
While a record-high 3,800 biased-related crimes and incidents were officially recorded in federal government data in 2020, officials also caution that the true figure is almost certainly far higher. The figures are alarming. In reality, the overwhelming majority of discriminatory incidents are never reported. In fact, many employees who face unlawful treatment in the workplace do not report the matter.
Race and National Origin Discrimination May Be Intertwined
State and federal laws protect workers against racial discrimination and national origin discrimination. In Florida, an employee may have rights under Title VII of the Civil Rights Act of 1964 and the Florida Civil Rights Act (FCRA) of 1992. Both statutes provide protections against workplace discrimination and/or harassment on basis race and national origin. As the EEOC highlighted in its recent public event, racial discrimination and national origin discrimination may be linked. Broadly defined, workplace protections extend to employees who were mistreated based on actual or perceived race, color, national origin, and ethnicity.
EEOC: National Origin Discrimination and Perception
One of the unfortunate challenges that Asian-American workers sometimes face is being "othered" in the workplace. Race & national origin employment protections extend to Asian-American workers regardless of their actual ethnic background or origin. For example, an Asian-American born in the United States—and whose parents were born in the United States—could still be subject to unlawful national origin discrimination in the workplace. The EEOC explains that "Title VII prohibits employment discrimination based on the perception." In other words, an employee who has been discriminated against or harassed by a supervisor, co-worker, or other party because of false assumptions regarding their racial identity, ethnic-background, or national origin is still protected under the law.
Get Help From a Race Discrimination Attorney in Florida
No person should ever be forced to endure discrimination, harassment, or mistreatment based on their racial background, ethnicity, or national origin. Asian-American workers deserve fair treatment. If you or your loved one was subject to racial discrimination or racial harassment in the workplace, please do not hesitate to reach out to a Florida employment lawyer for immediate help.