Miami Grocery Store Will Pay Florida $75,000 To Settle Pregnancy Discrimination Lawsuit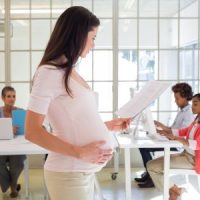 On May 16th, 2022, the Equal Employment Opportunity Commission (EEOC) officially announced that Presidente Supermarket No. 31, Inc.—a grocery store based in Miami, Florida—has agreed to pay $75,000 to an employee who was the victim of pregnancy discrimination in the workplace. The suit came after a worker was fired when a manager found out about her pregnancy. In this article, you will find a more complete review of the allegations raised against the employer in Miami-Dade County.
Allegations: A Cafeteria Employee Was Fired After Manager Learned of Her Pregnancy 
A cafeteria employee at Presidente Supermarket No. 31, Inc. learned that she was pregnant. Soon after, she shared this information with her co-workers. When a manager found out about her pregnancy status, the employee received a phone call stating that she was no longer needed. She was terminated from her position at the Miami grocery store.
A federal pregnancy discrimination claim was filed in the United States District Court for the Southern District of Florida. The EEOC alleges that the employee was fired directly because of her pregnancy status. The case has now been settled for $75,000 in compensation. As part of the pregnancy discrimination settlement, the employer entered a five-year consent decree. 
Pregnancy Discrimination Remains a Serious Problem in U.S. Workplaces 
Sadly, pregnancy discrimination remains a serious barrier to true equity in the workplace for expecting mothers. The EEOC reports that more than 2,000 federal sector pregnancy discrimination claims are filed each year. Sadly, the true extent of pregnancy discrimination is likely far higher. A survey cited in a report from Forbes found that 11 percent of mothers nationwide state that they endured some form of pregnancy discrimination in the workplace. Unfortunately, maternity discrimination—a form of sex/gender discrimination—is also a problem. 
Legal Protection Workers Should Not Have to Choose Between Motherhood and Livelihood
In 1978, the Pregnancy Discrimination Act amended Title VII of the Civil Rights Act of 1964. The federal pregnancy discrimination statute applies to all employers with more than 15 employees. The policy is clear: Workers should not be forced to make a choice between motherhood and their livelihood. The Pregnancy Discrimination Act prohibits all aspects of pregnancy discrimination in the workplace—from hiring and firing to pay and fringe benefits.
Notably, the statute also treats pregnancy complications similar to other types of legally protected temporary disabilities. While a worker should not be presumed to be "incapable" of continuing to perform her job while pregnant, she may be entitled to reasonable accommodation to help her navigate pregnancy-related complications. For example, a pregnant worker may be granted additional short rest breaks during the course of the work day. 
Get Help From a Pregnancy Discrimination Attorney in Florida 
Are you a pregnant employee or job applicant in Florida who has been discriminated against in violation of the Pregnancy Discrimination Act? If so, you may have a claim to recover compensation for your damages. Contact an experienced Florida pregnancy discrimination lawyer for help.