Using the Employer's Computer System at Work: What is Allowed and What is Illegal (the Computer Abuse and Data Recovery Act)?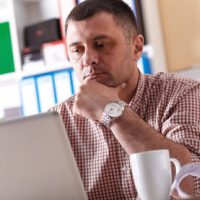 If you have a job in Florida in which you regularly have access to your employer's computer system, or if your job requires you to be on the computer as part of your job duties, you probably wonder with some frequency: what is allowed and what is illegal when it comes to using the employer's computer system at work? And more specifically, if you use your employer's computer to access material or content that the employer does not like, can you be reprimanded or even terminated? How might the Computer Fraud and Abuse Act (CFAA) come into play, and what are the repercussions for violations of the CFAA? How about Florida's Computer Abuse and Data Recovery Act (CADRA)?
Understanding Federal Law and the Computer Fraud and Abuse Act (CFAA)
The CFAA is a federal criminal statute that also allows an employer to have a civil cause of action against an employee who intentionally accesses a computer without the employer's authorization and obtain certain information or causes damage. The CFAA traditionally has been seen as a type of relief for those who fall victim to computer hackers, yet it has been seeing increased use in the employer-employee context.
What kind of information would an employee have to access on a workplace computer, or a computer owned by the employer, in order to be subject to the CFAA? In most cases involving an employer-employee relationship, there are allegations that the employee accessed a computer to take trade secrets or other protected information about the business. To be clear, it can be illegal under the CFAA to use an employer's computer to access information about trade secrets or other business information without having authorization from the employer.
A relatively recent federal case in Florida, Allied Portables, LLC et al v. Youmans et al, No. 2:2015cv00294 – Document 94 (M.D. Fla. 2015)clarified that the CFAA should be construed narrowly. As such, it may only apply in situations where the employer has made clear that there are limits on an employee's computer access and the employee exceeds those limits.
The Allied Portables case concerns an employee who handled administrative operations of the business. The employee was responsible for overseeing daily operations of the business, which included sales, operations, and developing and maintaining relationships with vendors and customers. According to the case, the employee "had unfettered access to all of Allied Portables' confidential, business, and trade secret information." The business owners alleged that the employee conspired to leave the company and to "form a competing business," and alleged that the employee "violated the CFAA in a conspiracy . . . by repeatedly accessing Allied Portable's computers with the intent to defraud . . . or by exceeding any authorization she may have had to access Allied Portable's computers."
The Court used a narrow interpretation of the CFAA, looking at "whether an employer had, at the time, both authorized the employee to access a computer and authorized that employee to access specific information on that computer." This analysis focuses on the employer's actions as opposed to the presumed, subjective actions of the employee.
Florida Laws Prohibiting Certain Types of Computer System Access at Work
While the CFAA is a federal law, there are also state laws in Florida that can make it illegal for employees to access employer computers in certain contexts. The Computer Abuse and Data Recovery Act (Fla. Stat. Section 668.801) is designed to "safeguard an owner, operator, or lessee of a protected computer used in the operation of a business from harm or loss caused by unauthorized access to such computer," and it is also designed to "safeguard an owner of information stored in a protected computer used in the operation of a business from harm or loss caused by unauthorized access to such computer."
In other words, similar to the CFAA, the CADRA prohibits an employee from taking trade secrets or other important business information from an employer's computer system without authorization. And the statute emphasizes that it should be "construed liberally."
If you have questions about what kind of computer access may be illegal in the workplace, you should discuss your concerns with a Florida employment lawyer.
Resources:
law.cornell.edu/uscode/text/18/1030
leg.state.fl.us/Statutes/index.cfm?App_mode=Display_Statute&Search_String=&URL=0600-0699/0668/Sections/0668.801.html