Whistle All the Way: Protecting Whistleblowers at Work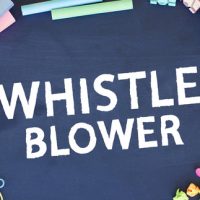 In recent years, the news has been full of whistleblowers exposing illegal activities of their companies. We may all have heard about whistleblowers, but how well do you understand and know what a whistleblower really is under the law? And what are those whistleblower protections?
Generally speaking, and under federal law, it is important to know a couple key laws: Section 21F of the Securities and Exchange Act of 1934—a section that was added by the Dodd-Frank Wall Street Reform and Consumer Protection Act of 2014, commonly known as the "Dodd-Frank Act"—and the Sarbanes-Oxley Act of 2002 ("SOX"). Before we get into a discussion of how these laws protect whistleblowers, we will begin by saying a bit more about how federal law typically defines a whistleblower.
What is a Whistleblower?
In generally, a whistleblower is an individual who exposes an illegal activity of their employer by making a complaint to the employer or even the government. Whistleblowers enjoy protections under state laws – like Florida Statute 448.102, but also can find protection under many different federal laws – depending on what action provides the basis for their complaint. Here, we examine protections under a few federal laws – typically reserved for whistleblowers in a business or financial setting.
First, you may have whistleblower protections under the Securities and Exchange Act (SEC). Under Section 21F of the Securities and Exchange Act, you are defined as a whistleblower "if, alone or jointly with others, you provide the [Securities and Exchange] Commission with information pursuant to the procedures set forth in Section 240.21F-9(a) of this chapter, and the information relates to a possible violation of the Federal securities laws (including any rules or regulations thereunder) that has occurred, is ongoing, or is about to occur." In other words, whistleblowers are those that provide information about violations of federal securities laws that:
Take, for example, the case of three whistleblowers who collectively (and anonymously) received more than $7 million from the SEC in January 2017. Indeed, to protect the anonymity of the whistleblowers, the SEC heavily redacted their order, while still providing these three participants with compensation for their assistance to the government.
As of 2002, whistleblowers added additional protections when the Sarbanes-Oxley Act became law. At the time it went into effect, it was considered to be one of the most protective anti-retaliation provisions in the world. The Occupational Safety and Health Administration clarifies that the SOX protects "employees who work for publicly traded companies or companies that are required to file certain reports with the Securities and Exchange Commission (SEC) . . . from retaliation for reporting alleged mail, wire, bank, or securities fraud; violation(s) of SEC rules and regulations; or violation(s) of Federal law relating to fraud against shareholders."
If a whistleblower does provide information about any of the above violations, an employer is prohibited under SOX from taking any of the following actions against the whistleblower:
Firing or laying off the employee;
Blacklisting;
Demoting the employee;
Denying the employee overtime pay;
Denying the employee a promotion;
Denying the employee benefits;
Disciplining the employee;
Failing to hire or to rehire;
Intimidating the employee;
Making threats against the employee;
Making reassignments that affect the employee's prospects for promotion; and
Reducing the employee's pay or hours or employment.
How about under Section 21F, which was put into place by the Dodd-Frank Act? Under Section 21F, there are even more protections for whistleblowers. More specifically, the federal law takes two additional steps:
Creates a mandatory bounty program paid by the SEC for qualifying whistleblower tips; and
Expands the anti-retaliation provisions of the SOX for whistleblowers in particular situations.
Contact a Florida Whistleblower Lawyer
If you are a whistleblower and have been subject to retaliation, you may be able to file a claim. A whistleblower lawyer in Florida can answer your questions today. Contact Scott Law Team to discuss your case.
Resources:
law.cornell.edu/cfr/text/17/240.21F-2
osha.gov/Publications/osha-factsheet-sox-act.pdf
sec.gov/rules/other/2017/34-79853.pdf