Are Criminal Background Checks for Florida Employees Legal?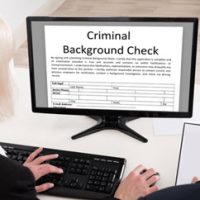 When you apply for a job in Florida, is your future employer allowed to use the results of a criminal background check when making an employment decision? Or are they allowed to run a background check on you prior to offering you the position? What about running a background check on you while you are employed?
These questions involve two different bodies of law: anti-discrimination laws (such as those enforced by U.S. Equal Employment Opportunity Commission (EEOC)) as well as the Fair Credit Reporting Act (FCRA). In short, federal law requires that any background information obtained about a job applicant or a current employee be handled in a certain way (under the FCRA) and used in a manner that complies with federal laws prohibiting employment discrimination.
Federal Laws Concerning Criminal Background Checks
In general, criminal background checks for prospective or current employees must comply with the Fair Credit Reporting Act (FCRA), as well as federal laws prohibiting discrimination. The FCRA requires that employers who request criminal background checks do the following first:
Inform the job applicant or employee that information contained in the background check might be used for employment decisions;
Inform the job applicant or employee about his or her right to obtain a description of the nature and scope of a background investigation;
Obtain written permission from the job applicant or employee to conduct the background check; and
Provide certification to the company providing the background check information.
The employer also must request criminal background checks in a manner that is not discriminatory. Under Title VII of the Civil Rights Act of 1964, as well as other federal laws that prohibit discrimination based on age and disability, for example, an employer must treat all job applicants or current employees equally. To be clear, an employer cannot request a background check based on the employee's race, national origin, color, sex, religion, disability, genetic information, or age.  An employer should not attempt to obtain an employee's genetic information or family medical history.
Furthermore, the FTC requires that when using a consumer report, employers must provide applicants any notice of a negative decision in the form of an "adverse action notice," which includes information about the consumer reporting agency (CRA) that prepared the report, states that the CRA did not make this decision, and mentions that the person has the right to receive a free copy of the report within 60 days and to dispute inaccurate information. In addition, the FTC provides a list of rights included under the FCRA; under this law a consumer has the right to:
Know if any information in their file has been used against them;
Know what is in their file; and
Ask for a credit score.
This list is not exhaustive, and anyone with additional questions regarding the FCRA is encouraged to speak with an employment lawyer immediately to understand their rights under the FCRA.
Using Information from an Employee's Background Check
Once a prospective or current employer has complied with the FCRA and obtained information about an employee's background, then the employer must use the information in a manner that is not discriminatory and complies with all federal employment laws.
An employer must apply the same standards to all prospective or current employees regardless of race, national origin, color, sex, religion, disability, genetic information, or age.  Employers also must avoid certain hiring or other employment practices that could have a disparate impact on people of a certain race, national origin, color, sex, religion, or age when the practice is not "job related and consistent with business necessity."
Employer Presumption Against Negligent Hiring in Florida
Employers in Florida must comply with federal laws concerning criminal background checks. At the same time, it is important to note that Florida law might actually encourage employers to conduct background checks in order to avoid liability for actions taken by employees. Under Florida Statutes Section 768.096, there is a presumption against negligent hiring if the employer conducted a proper background investigation into the employee.
In short, Florida employer may be able to avoid liability for an employee's wrongdoing at work if the employer conducted a background investigation that did not reveal any information about the employee's unsuitability for employment. Part of the background investigation must include a criminal background investigation. However, it is crucial that the background check in conducted in such a way that follows federal laws.
Contact a Florida Employment Discrimination Lawyer
Background investigations and criminal background checks can be complicated for Florida employers and employees alike. If you have questions, an experienced Florida employment discrimination lawyer may be able to help. You should contact an experienced employment law attorney in Florida  to discuss your concerns.
Resources:
ftc.gov/tips-advice/business-center/guidance/background-checks-what-employers-need-know
eeoc.gov/eeoc/publications/background_checks_employers.cfm