Florida Wal-Mart Sued By The EEOC For Allowing Sexual Harassment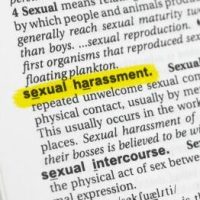 On September 21st, 2021, the Equal Employment Opportunity Commission (EEOC) announced a workplace sexual harassment lawsuit against Wal-Mart. According to the allegations raised by the federal agency, the company allowed a male employee of a Wal-Mart retail location in Walton County, Florida to sexually harass at least three female coworkers. In this article, you will find a more detailed review of the complaint and an overview of sexual harassment law.
Allegations: Wal-Mart Store in Florida Allowed Sexual Harassment
The EEOC filed a lawsuit against Wal-Mart in the United States District Court for the Northern District of Florida. In the complaint, the EEOC alleges that a male employee of a Wal-Mart in Defuniak Springs, FL was allowed to sexually harass three female coworkers. The alleged misconduct in question occurred in the summer and fall of 2018.
During that time, the EEOC alleges that the Wal-Mart employees were subjected to repeated sexual harassment by their male coworker. The misconduct involved offensive comments and inappropriate, unwanted physical contact. One of the female employees complained to the store's management. Four days later she was fired. No action was taken against the alleged harasser.
EEOC is Seeking a Wide Range of Remedies for the Employees
In its lawsuit against the Walton County, FL Wal-Mart store the EEOC is seeking all available remedies on behalf of the affected employees. The federal agency states that it attempted to reach a pre-litigation settlement with the company, but was not successful. Among other things, the EEOC is requesting:
Full back pay for the employee who was fired;
Reinstatement of the employee who was fired;
Compensatory and punitive damages for all three victims; and
Injunctive relief to help prevent future sexual harassment at this Wal-Mart store.
In its press release related to this matter, the EEOC emphasized that it takes allegations for retaliation against sexual harassment victims very seriously. It is a point of emphasis in enforcement. Workers have a right to report sexual harassment. They should never be subject to unfavorable treatment for doing so.
Employers are Responsible for Employees, including Non-Managers
Sexual harassment is a form of sex-based discrimination under Title VII of the Civil Rights Act of 1964. Under the law, employers are responsible for working to ensuring that their workplace is free from sexual harassment and other types of sex/gender discrimination. Notably, employers are responsible for the conduct of their employees.
An employer's responsibility is not merely limited to preventing sexual harassment by managers and other supervisors. Employers in Florida should work proactively to prevent all forms of sexual harassment—including sex-based harassment committed by an employee's co-worker. An employer that does not handle a sexual harassment complaint properly can be held liable.
Get Help From a Workplace Sexual Harassment Lawyer in Florida
Sexual harassment is the workplace is unacceptable. Workers in Florida should be able to enjoy safety and security while on the job. If you or someone you know was the victim of sexual harassment or sexual misconduct while on the job, contact an experienced Florida employment lawyer for immediate assistance.