Florida Court Holds Employee Who Testifies at Deposition is Covered for Whistleblower Protections Under Fla. Stat. 448.102 Addresses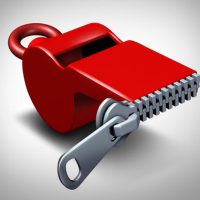 In a recent ruling in the case of Bishop v. Olen Residential Property Corp pending before the Circuit Court of the Fifteenth Judicial Circuit of Palm Beach County, Judge Meenu Sasser held an employee who testifies at a deposition is covered under the second prong of the Florida Whistleblower Act (Fla. Stat. 448.102(2). Recognizing that Fla. Stat. 448.102(2) should not be construed narrowly Judge Sasser permitted Ms. Bishop to proceed with a claim under the Florida Whistleblower's Act based on her assertion that testimony under oath in a deposition is covered from the anti-retaliation provisions in the second prong of the statute, thus defeating the Defendant's Motion to Dismiss. The Defendant's Motion for Reconsideration was denied, as well.
Florida Law Prohibitions on Employee Termination and the Florida Whistleblower Act
What protections exist for whistleblowers in Florida who testify against their employers? The Florida Whistleblower Act offers protections for employees under three separate sections. In this article, we focus on the second section, Section 448.102(2),  which specifically states that "an employer may not take any retaliatory personnel action against an employee because the employee has . . . provided information to, or testified before, any appropriate governmental agency, person, or entity conducting an investigation, hearing, or inquiry into an alleged violation of a law, rule, or regulation by the employer." To be clear, this is the second prong of the Florida Whistleblower's Act, and it protects employees from retaliation due to information or testimony provided to specific persons or entities.
In Bishop, Ms. Bishop was employed as a property manager. At that time, another party sustained an injury and filed a negligence lawsuit against the defendant, Ms. Bishop's employer. As part of the negligence lawsuit, Ms. Bishop testified at a deposition about the negligence lawsuit. Ms. Bishop was subsequently terminated. In her Complaint, she contends she was terminated as a result of her truthful testimony she provided about the employer in the deposition and refusal to engage in perjury.
In making a determination to deny the Defendant's Motion to Dismiss, Judge Sasser recognized Section 448.102(2) should be construed liberally, and that it does not narrowly require that an employee's disclosures or testimony be made before a government agency. Specifically, Judge Sasser recognized that those statutory protections against retaliation "are not limited to persons or entities conducting an investigation on behalf of a government agency," and if the legislature had "intended to only protect employees' disclosures before governmental agencies . . . it could have done so."
Judge Sasser makes clear that employee testimony in a deposition, under oath, qualifies for protection against retaliation under the Florida Whistleblower's Act.
Other Prohibitions Against Retaliation in Florida
Are there additional laws in Florida to protection employees from termination when they testify? It is important to note that an employer is prohibited from terminating an employee who testifies in a judicial proceeding in response to a subpoena because of the employee's absences or because of the nature of their testimony. However, the protections of Florida Statute Section 92.57 only apply if the witness was subpoenaed. The statute specifically refers to the prohibited termination of employment of a witness, and it says:
"A person who testifies in a judicial proceeding in response to a subpoena may not be dismissed from employment because of the nature of the person's testimony or because of absences from employment resulting from compliance with the subpoena. In any civil action arising out of a violation of this section, the court may award lawyer's fees and punitive damages to the person unlawfully dismissed, in addition to actual damages suffered by such person.
The language of the statute expressly authorizes lawyer's fees as well as punitive damages. Punitive damages are not awarded in all cases where a plaintiff suffers an injury, but rather only in cases where a defendant displays particularly egregious conduct. With that in mind, it is clear that the statute considers the termination of an employee due to his or her role as a witness to be a particularly damaging act and thus expressly permits punitive damages, as well as actual damages.
Contact a West Palm Beach Whistleblower Lawyer
If you have questions about protections for whistleblowers in Florida, a West Palm Beach whistleblower lawyer can help. Contact Scott Law Team today for more information.
Resources:
leg.state.fl.us/Statutes/index.cfm?App_mode=Display_Statute&Search_String=&URL=0000-0099/0092/Sections/0092.57.html
leg.state.fl.us/Statutes/index.cfm?App_mode=Display_Statute&Search_String=&URL=0400-0499/0448/Sections/0448.102.html