Airline Will Pay $75,000 To Settle Pregnancy Discrimination Lawsuit In Miami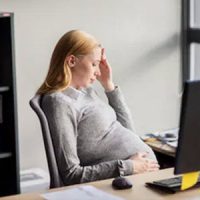 On February 28th, 2023, the Equal Employment Opportunity Commission (EEOC), the company Aruba Airlines has agreed to pay $75,000 to resolve a pregnancy discrimination claim. The case was filed in a federal court in Miami-Dade County, Florida. In this article, our Florida employee rights attorneys offer a more in-depth review of the allegations and the settlement as well as common examples of pregnancy discrimination.
Employment Law Complaint: Financial Analyst Terminated for Pregnancy 
The EEOC filed an employment discrimination lawsuit against Aruba Airlines in the United States District Court for the Southern District of Florida. The alleged discrimination in this case took place in the company's Miami corporate office location. According to the complaint, a female employee who worked as a financial analyst for the company became pregnant. Soon after the company learned of her pregnancy, she was terminated from her position. The EEOC filed a lawsuit alleging that the pregnancy was a causal factor in the adverse personnel decision. Without admitting or denying discriminatory animus, Aruba Airlines has agreed to settle the lawsuit. The company will pay $75,000 to the affected employee. The employer has also entered a four-year consent decree. It will alter its practices to prevent further pregnancy discrimination.
 Know the Most Common Examples of Workplace Pregnancy Discrimination  
Simply described, workplace pregnancy discrimination occurs when an employer treats a pregnant employee or applicant unfavorably based on her pregnancy, childbirth, or related medical conditions. Some notable examples of pregnancy discrimination include:
Refusal to Hire a Pregnant Job Applicant: Employers cannot refuse to hire a job applicant because of her pregnancy, even if they believe she will be unable to perform the job duties. Sadly, in all too many cases, visibly pregnant job applicants have a more difficult time obtaining a new position. Employers must treat pregnant applicants fairly.
Firing a Worker for Getting Pregnant: Covered employers cannot fire an employee because she is pregnant. That a worker got pregnant should not be a justification to remove that worker from her position.
Denial of Promotion: In some cases, companies refuse to promote workers who are pregnant or may become pregnant. This could be either pregnancy discrimination or sex-based discrimination.
Refusal to Provide a Reasonable Accommodation: Employers must provide reasonable accommodations to pregnant employees if they have a medical condition related to their pregnancy that makes it difficult to perform their job duties.
Otherwise Treating Pregnant Employees Less Favorably: Employers cannot treat pregnant employees differently than other employees who have similar medical conditions.
Pregnancy-Related Harassment: Employers cannot harass pregnant employees because of their pregnancy. Harassment can include making derogatory comments about pregnancy, making offensive jokes, or even physically touching a pregnant employee without her consent. 
Consult With a Pregnancy Discrimination Lawyer in Florida 
Pregnant workers deserve fair, equitable opportunities in the workplace. If you were denied fair treatment because of your pregnancy status, your rights may have been violated under federal and/or state law. Consult with a Florida pregnancy discrimination attorney for immediate help.